Koldus, my favorite contrarian in
Seeking Alpha
,
thinks
. I mean
differently
. He says
the best is yet to come

.
Copy/Paste from his article:
"Intuitively, we know that this near record-setting bull market has been different, as investors have gravitated towards yield focused investments, including bonds and dividend growth stocks.
Visualizing the outperformance of defensive sectors over their economically sensitive counterparts is eye opening.
These defensive sectors, including bonds, as measured by the iShares 20+Year Treasury Bond ETF (
TLT
), and utilities, as measured by Utilities Select Sector SPDR ETF (
XLU
), have correlated closely with S&P 500 Index itself,
which I argue
has become a defensive, safe-haven global liquidity instrument.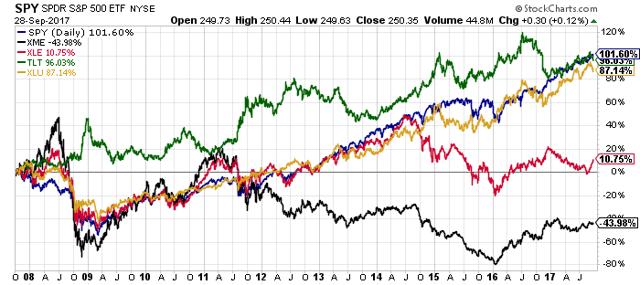 Meanwhile, economically sensitive equities, including energy equities, as measured by the Energy Select Sector SPDR ETF (
XLE
), and material equities, as measured by the SPDR S&P Metals & Mining ETF (
XME
), have dramatically underperformed.
Take in the chart listed above for a few minutes, which shows SPY up 101.6% over the last decade, TLT up 96.0% (which is even more remarkable in my opinion), XLU up 87.1% over the past ten years, XLE up only 10.8%, and XME down a remarkable -44.0% over the past ten years.
From looking at the above performance chart, where do you think the undervalued opportunities are today?
Now taking in the information from the decade performance chart, what if I told you that economic growth is accelerating..."
Koldus thesis is in harsh opposition to China's Xi who just said that China is now passing from fast growth to moderate growth energized by innovation alone. What happens if the financial markets and Xi are wrong about their expectations for growth?

As for me, I am fully invested in Israeli shares. I also started to collect Nvidia, for its AI chips. They advised me no, because it is too expensive.

PS.: Koldus is a Hungarian name, it means Beggar. Nomen est...